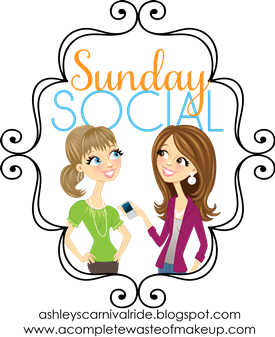 I am linking up today with
Ashley
and
Neely
for
Sunday Social
.
What is The Sunday Social?
The Sunday Social will be 6 questions every Sunday that all have a similar theme to them.
Ashley
and
Neely
will post the questions on their blogs a week before the link-up so those who don't post on the weekend can still participate. I love having a post that I can schedule on the weekend. They want this to be a way to meet new people, gain some followers and find new blogs you can't wait to read. Sounds great so go join in!
All Ashley and Neely ask if that you use their button and answer the questions any way you like.
This week's questions are designed to let bloggers know who you are and what your blog is about. Here are my answers:
How did you come up with your blog name?
I have always tried to live with the attitude that there are some days you just gotta dance and live. Life is too short to let things weigh you down and consume all you have to give each day.

What is your favorite thing about blogging?
My favorite thing about blogging is to come across bloggers who share similar interests. I started my blog as a way for me to remember things each year that happened in my life. I have enjoyed finding blogs that are an encouragement to me as a single, Christian young lady.

What is one thing you have discovered because of blogging and now can't live
without?
A support system. I don't know any of the people who comment on my blog, but they have left some of the most encouraging, supportive comments on posts. I also love that my having a network of blogs I can read that often times posts from other bloggers speak to me or my current situation.

Facebook or Twitter? and Why?
Twitter - I love the short, to the point posts that I can read if I want to or pass on if I don't want to read. With Facebook, there is a little more drama. I love that there is a 140 character count on Twitter and most can't fit their drama in that short of a post. : )

If one celeb read your blog who would you want it to be?
This is a tough one... I think I would want Carrie Underwood to read my blog.

What is something you want people to know about your blog?
I am who you see I am on the blog. I am not going to try to paint a perfect picture of life. I will share about my faith, about my family and the things I love.