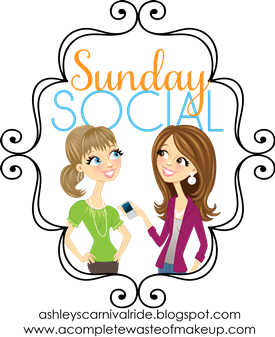 Linking up for week two of Sunday Social with Ashley and Neely! What is the Sunday Social? Go here to read about this fun link-up and then come join in!
(SORRY for not videos or links/pics! Blogger is having a major malfunction this morning.)
What is your all-time favorite song?
Hmm.. This is a hard one. I love music and have lots of favorites. If you look at my iTunes playlist, the top three most played songs are:
"I Still Believe" - Jeremy Camp
"I Was Here" - Lady Antebellum
"Never Let Go" - David Crowder Band
What is your favorite singer/band?
I have a lot of favorites... Being in the band and taking piano lessons, it has always been a huge part of my life. I currently listen to Chris Tomlin, Christy Nockels, Lady Antebellum, Eric Church and Jason Aldean on repeat. : )
What is your theme song/song that best describes your life?
"Some Days You Gotta Dance" - Dixie Chicks... The name of my blog!
What songs put you in a good mood?
I love songs by Joe Cocker, Rod Stewart, Chicago, Fleetwood Mac, Van Morrison, Neil Diamond, etc. The "oldies" are some of my favorite feel good songs.
What is your favorite road-trip music?
"Sweet Home Alabama" - Lynard Skynard
"Brown Eyed-Girl" - Van Morrison
"American Pie" - Don McLean
"It's Tricky" - Run-DMC
"Bad Moon Rising" - Creedence Clearwater Revival
What song are you embarrassed to admit you love?
I mostly listen to these artists when I work-out, but sometimes I turn them on and just let them play... Waka Flocka Flame, LMFAO, Pitbull, Flo Rida, Britney Spears, Wiz Khalifa, Lil Wayne
Feel free to copy the prompts and go link-up!