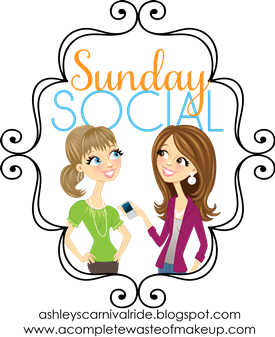 Linking up for week five of Sunday Social with Ashley and Neely! What is the Sunday Social? Go here to read about this fun link-up and then come join in!
Favorite TV show of the past
Little House On the Prairie, ALF, The Cosby Show, Friends, The Dukes of Hazzard, Three's Company, I Love Lucy, Everybody Loves Raymond, Dawson's Creek, ER
Favorite TV show currently
Duck Dynasty, Pretty Little Liars, Army Wives, Food Network Star, The Closer, Rizzoli & Isles, HGTV Design Star, So You Think You Can Dance, Dallas, Days of Our Lives, Grey's Anatomy, Private Practice, Downtown Abbey
Which Reality Show would you NEVER do?
So You Think You Can Dance... Cause white girl can't dance!
Which Reality Show would you LOVE to do?
The Biggest Loser... Would love to get fit and lose this extra weight and make a lifestyle change!
TV personality/character that you feel is most like you?
Rachel on Friends
TV character you'd want to date?
E.J. Dimera